Come sail with us!
Founded in 1903, the Mendota Yacht Club is the oldest sailing club on Lake Mendota and Dane County. Our mission is to encourage the sport of sailing among young and old.


Lake Geneva Boat Wins E-Invitational
July 15
Congratulations to Vince Porter and the crew of I-2, Wide Open, for winning the E-Invitational Regatta on Lake Mendota last week-end. Vince received 2 first places in the 4-race regatta. One of those 1st places came from the high-wind race that claimed 8 capsizes.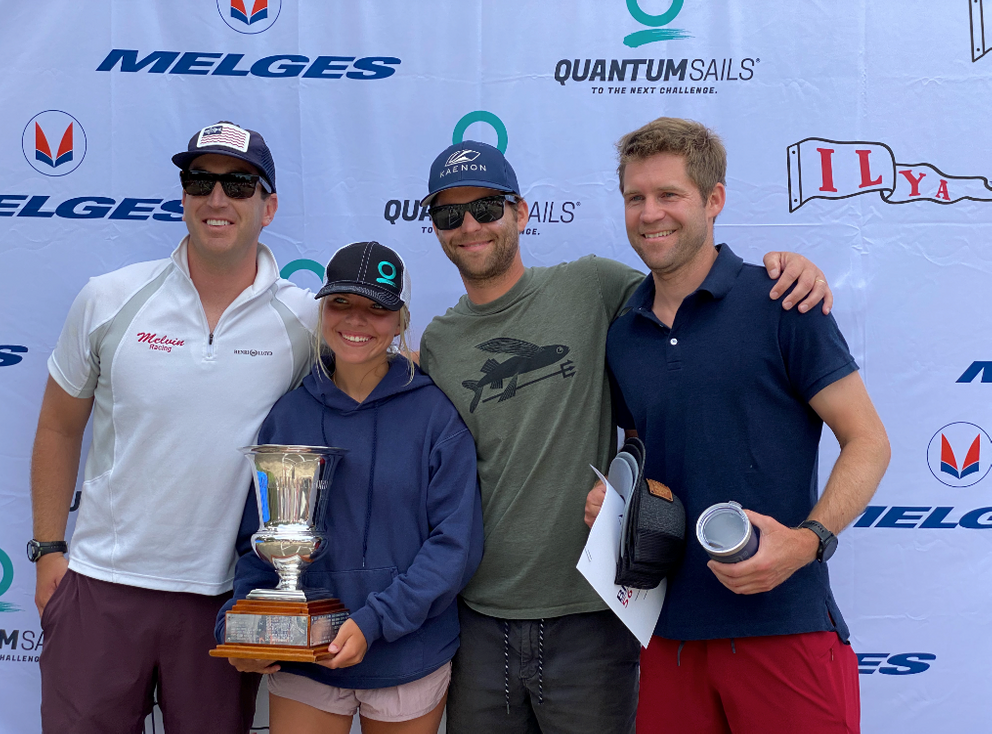 MYC Member Patrick Heaney Wins Race #2 of the E-Invitational
July 10
After a day of doldrums and no racing yesterday, today brought perfect conditions (modest temperatures, slightly overcast skies to tamp the heat, winds ranging from 5-12 mph) and three competitive races. Congratulations to MYC's very own Patrick Heaney for winning the 2nd race of the day. He sailed with crew Max Watrous, and Justin Segersten. If you see them at tonight's BBQ picnic, be sure to congratulate them.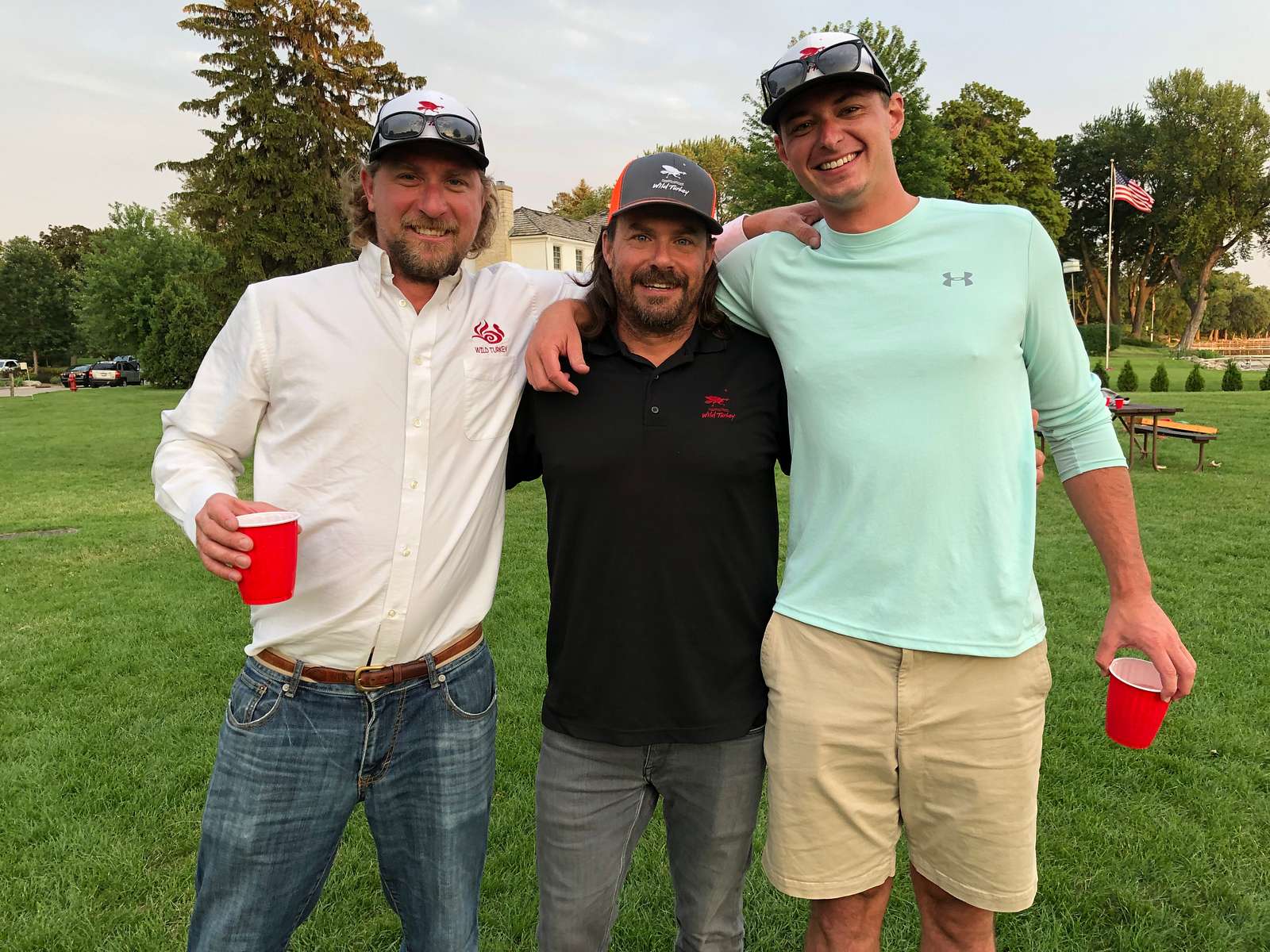 E-Scow Invitational Regatta Starts Today
The boats are arriving and being rigged at Governor Nelson park. Many boats will be out on the lake to watch the action, so it's important to understand how to watch the race without getting in the way. Our regatta PR Chair Don Sanford has compiled a great guide for spectators. Whether you are an experienced racer or just out to enjoy watching the excitement, it is a good idea to check out Don's Tips for Spectator Boats.
You can stay on top of regatta events by checking our Regatta Daily News. We will be in contact with regatta personnel, the RC boats, spectator boats, and photographers who will feeding us the latest scoop, so check out the page often.
2021 ILYA E-Scow Invitational Regatta
It's official, MYC is hosting the 2021 ILYA E-Scow Invitational.
Regatta chairs Darby and Tim Sugar are pleased to announce that E-Boats from around the Inland will converge on Lake Mendota July 9–11, 2021 for their annual invitational regatta.
Regatta headquarters will be at Governor Nelson State Park. Most boats will be launched there. Others will launch from the MYC rail at Burrows Park. Races are planned for Friday, Saturday and Sunday.
Visit MYC's Regatta Information page to learn all the details.
The Payton Regatta is Back!
The Payton Regatta and the Payton party are back! It was such a disappointment when we had to cancel these events last year due to COVID. This year, the regatta will be raced as it normally is. The evening gathering, with some adjustments, will again be held at the Maple Bluff Beach House. Here's what you need to know.
The Dates
Saturday, June 19 and Sunday, June 20, 2021
The Racing

June 19 starting at 10 a.m.--Two races back-to-back
June 20 starting at 10 a.m.--Two races back-to-back. The first of these two races is also a regular Sunday club race.
The Keelboat fleet will be racing for the Mallory Cup
The Party
Saturday June 19, 6-8 p.m.
Maple Bluff Beach House
365 Lakewood Blvd.
Pascal's Cantina will be catering a taco bar buffet. This event is free to MYC members. However, we do need to give Pasqual's Cantina a head count, so if you plant to attend, please RSVP by June 12 to Linda Baumann at ljbauman@wisc.edu.
The Awards Ceremony
Sunday, June 20 at 3 p.m.
Burrows Park in the grassy area by the boats
25 Burrows Road
Please show up to observe the racing, to party with your sailing friends at the taco picnic, and to congratulate the winners.
Sign Up for the MYC Picnic!
What could be better than reconnecting with your fellow MYC members after not having seen them for over a year? Since it's still a bit early to sail, come to the Spring Gathering that MYC is hosting at Elver Park.
As a way to welcome you back, MYC will be providing a Blue Plate catered picnic lunch and beverages to MYC members on May 15 from 11 a.m. to 1 p.m. Because of COVID 19 restrictions, space is limited, so sign up soon to reserve your spot.
Event: Spring Picnic
Date: May 15, 2021
Time: 11 a.m. to 1 p.m.
Where: Elver Park, 1250 McKenna Blvd, Madison, WI
You can sign up for this event here: https://my.mendotayc.org/event/55
For questions regarding this event, contact Linda Baumann at ljbauman@wisc.edu.
P.S. If you haven't already renewed your membership to MYC, now is a good time so you don't miss this fun member event. And the good news is that if you sign up within the next couple of days, you may still get a listing in the MYC membership directory as the proofs haven't yet arrived in our inboxes. So don't delay. You can renew your membership here: https://my.mendotayc.org/store
Successful Day at Burrows Park
People are excited about sailing. Around 30 people showed up at the Burrows Park work party on May 8. Lon Schoor, our Burrows Park coordinator, organized the work party and there was no shortage of work to be done. People jumped right in to:
Put in both the north and south piers.
Put in both the north and south rails.
Set buoys.
Paint dollies.
Cut weeds.
Trim tree branches.
Hang the chain hoist on the crane.
Rake the sand piles left by the trenchers during the electrical work last fall.
Thanks to everyone who showed up to make it a successful day.
Meet Commodore Charlie
A Bit about Commodore Charlie Goehring, in his own words:
"Let me first say, I'm humbled to serve as your Commodore for the 2020-21 sailing year. Along with MYC's Board of Directors, we look forward to guiding our club back to a full racing and social slate as we navigate the uncertain COVID waters.
For those who have tipped a cold one with me at any number of MYC venues (Memorial Union, Oakcrest Tavern, Burrows Park), you already know that my problem solving approach is influenced by my community service leadership roles with the Madison Breakfast Rotary, Boy Scouts of America, and Scouts for Equality. My administrative style has also been influenced by the managerial posts I've held with the U.S. Navy, U.S. Forest Service, and the not-for-profit Southern Forest Products Association & Truss Plate Institute.
My lifetime of service started when I was growing up in East Greenwich, Rhode Island which straddles the challenging waters of Narragansett Bay, a sailing Mecca. Rhode Island, known as the Ocean State, is also home to Naval Air Station Quonset Point, Naval Base Newport, and Seabee Base Davisville, all of which were my boyhood maritime haunts. The Goehring family tree spans five generations of Navy Men, the youngest being my son, CM2 Goehring, who is currently serving as a "Can Do" Seabee at Naval Station Norfolk.
Rhodies are taught at an early age that our fledging sailing Navy started in East Greenwich when the State Assembly passed a resolution on June 12, 1772 creating the Rhode Island State Navy by authorizing and funding two Sloops-Of-War, the flagship Katy (later renamed U.S.S. Providence of the Continental Navy) and the Washington to challenge HMS Rose.
With this rich maritime history as a backdrop, my folks instilled in me a love for sailing and service at an early age when they enrolled me in East Greenwich Yacht Club's Youth Sailing Program and in Boy Scouts of America. After I attained the rank of Eagle Scout and earned nearly all the water sport merit badges, Narragansett Council offered me four years of summertime employment during my high school years. My job was to direct Yawgoog Scout Reservation's Sailing Center. We trained and certified nearly 500 Scouts & Adult Leaders each week. We taught them to sail and to race a 16-boat Dyer Dhow Dinghy fleet. Those where heady times (late 1960s) for Boy Scouts of America Sailing, particularly when British Scouts would challenge our best sailors to the "Little America's Cup" series; and like our across-the-bay America's Cup professionals, the "Rhodies" managed to sweep the "Limeys" in similar fashion.
Fast forward to the present. In my two years of serving with the MYC Board, we invariably discuss how we must grow the sport of sailing to remain viable. It starts with our youth. Two of our newest directors, Paige Fitton and Julie Unite, have children who actively race MCs and J70s, and have enrolled them in nearby inland lake youth sailing programs. We are excited to add their experience and input to that of current board members Patrick Heaney and Eric Simonson who also have children active in youth sailing. I know they will use their knowledge and expertise to develop an outstanding youth program for MYC.
Since youth sailing programs need adequate space for shore school and gear storage, the Board will continue to evaluate promising properties for a potential water activities center. Board member and Treasurer Afan Ottenheimer will continue to prepare cost benefit analyses, and we will keep you apprised of our progress. If we find something that fits our needs, we will seek MYC member ratification before proceeding with a purchase.
As we emerge from the COVID-19 doldrums and the cyber-world where we have been trapped, we will all be ready for in-person socializing. Rear Commodore Matthew Barron will continue with his important work with Public Health Madison and Dane County to keep us informed as we navigate COVID 19. Once local COVID restrictions permit, we will resume social gatherings such as after-race parties and other board-sanctioned events. Linda Baumann, our Social Chair and a new board member, will put together a great program just as she has in the past.
Plans are underway to add another fleet to our racing roster. New board member Brett Hulsey is an avid catamaran sailor and will work to bring the Lake Mendota-based cats into our racing program. It will be great to have multiple new boats queuing up at the MYC starting line. The next couple of years will also bring some regattas to our lake. Vice Commodore Patrick Heaney will continue his outreach with the ILYA and the National E-Scow Association as both organizations have designated MYC to host their annual regattas for 2022 and 2023, providing COVID doesn't change things.
I'd like to close by saying that I'm a strong advocate of technology and social media. Please visit our webpage often and, if you haven't already joined our Facebook page, I encourage you to do so."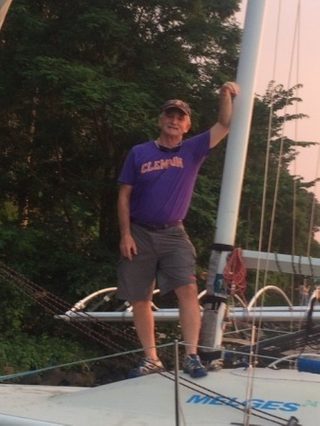 Burrows Park Pier Out
Burrows Pier-Out is on Saturday October 3 starting at 8:30am. Please pass this information on to any crew or others who may be willing to help and log 'work hours' on your behalf. There were not many boats stored at Burrows because of COVID so we will need everyone who sailed to help on Saturday.
Wear your mask!!
COVID-19 Update
Due to the COVID-19 pandemic, Mendota Yacht Club's racing rules have been modified to reflect adherence to Public Health Madison and Dane County's Phase 2 restrictions. These modified rules will be in effect until Phase 2 restrictions have been changed to a different phase or lifted altogether. Please check the following link for the latest updates.
Pop-Up Regatta
By Stefan Schmidt
August 15, 2020
Burrows Park, Lake Mendota
The Mendota Yacht Club behind the efforts of Afan Ottenheimer and David Sebald decided a regatta should be organized in an effort to get some MC racing in during a time when our club suspends racing during originally scheduled ILYA championships with the hopes other clubs might have a need to attend a last- minute Covid aware regatta. As it turns out, many clubs DID race this weekend and our off-lake attendance did not pan out. We did hear there would be interest in our venue for events down the road.
What a day of sailing it turned out to be! Boats were rigged in rainy conditions, there was a brief postponement and the morning races got started around 11:30 by race officer Anma Ingeana with Don Sanford setting marks in a formidable 12-16 mph breeze from the NNW. The roster highlighted youngsters Billy and Mitch Fitton whose ages combined (15 and 12) was still less than a third of the eldest competitor. These lads beat the eventual event winner to the first mark in race #1 in challenging conditions.
The wind was brisk, wave sets were building and the course location allowed for interesting effects of wind curving out of Warner Bay around massive Maple Bluff menacingly close to the windward mark. For reasons unknown to this writer it paid big time getting close to the bluff, other times not so much. I wouldn't call it a regular oscillating wind pattern but there were big lines of breeze coming in from both the right and the left sides very randomly throughout the day. The sky cleared at lunch break, the wind died and then filled in mightily for races #3 and #4 (13-18 mph, gusts at our University weather buoy reaching 21 the one time we checked). It didn't take long for the waves to start building but they never became entirely unmanageable due to the northerly wind direction and our proximity to that shore.
Racing was extremely close and the lead changed regularly in nearly all races. At lunch break after two races 3 racers were tied with 4 points. The afternoon sailing was challenging and a couple boats split up their crews to sail with some of the lighter single-handed skippers. It didn't help Afan Ottenheimer any when his hiking stick failed completely in race three. A line tied to the tiller made it possible to hike out or bear off but leeward roundings got a little tricky. Every neck and neck downwind run, upwind tacking decision or boat handling skills at roundings or in general really mattered all the time. Any of the top three racers could easily have won the event. It came down to the last race. We all knew we had experienced a great full day of sailing when we kicked back at Burrows Park.
This was a good first effort for our club to host a regional MC regatta. We would like to communicate with the MCSA to see if there might be a warm water date that would serve as a good fit for a possible Mendota/Monona shared regatta…perhaps alternating lakes. Lake Mendota is such a great venue offering a bigger lake experience and Monona has it going on with its smaller size, shifty winds and beautiful capitol skyline views. Both lakes are within an hour or so of many Wisconsin sailors. Thanks to the MCSA for all the help that was provided…Fleet 69.
| | | | | | | | |
| --- | --- | --- | --- | --- | --- | --- | --- |
| Name | Boat # | Race #1 | Race #2 | Race #3 | Race #4 | Total | Place |
| Stefan Schmidt | 2229 | 3 | 1 | 2 | 1 | 7 | 1 |
| Timothy Elfenbein | 2527 | 2 | 2 | 1 | 3 | 8 | 2 |
| Afan Ottenheimer | 2016 | 1 | 3 | 3 | 2 | 9 | 3 |
| David Sebald | 2663 | 4 | 4 | 4 | 4 | 16 | 4 |
| Paige Fitton | 2461 | 5 | 5 | DNS | DNS | 24 | 5 |
| Billy & Mitch Fitton | 1348 | 6 | 6 | DNS | DNS | 26 | 6 |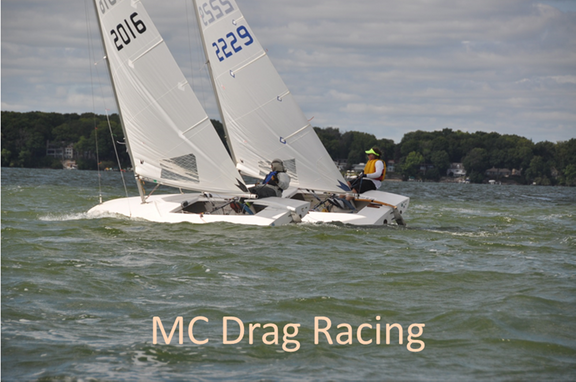 UW Lifesaving Gets a New Boat
As hard as it is to imagine right now, there will be a day when all of the Mendota Yacht Club boats will be on the lake and racing fiercely. When that day comes, there is bound to be a boat that will win the Tanglefoot Award. Everyone will laugh at the story as it is told at the Commodore's banquet, but chances are it created a bit of stress in the moment. It's also likely that the UW Lifesaving rescue boat was on hand to assist.

Mendota Yacht Club has always had the good fortune to have the UW Lifesaving Station's watchful eye looking over it. Established in 1909 to provide lake rescue service for UW-Madison students, it is going strong over 100 years later. It provides rescue service not only for boaters and swimmers from UW-Madison, but also for the Madison community, including Mendota Yacht Club.
Starting July 15, sailors in need of help will be greeted with a new rescue boat: a Metal Shark 32 Defiant. This boat was custom-built for UW-Madison and is a proven safety and rescue boat. Take a few minutes to view the video to get acquainted with the boat.
Notification of Racing Rules Modifications
Hello members,
What a challenging year COVID-19 has brought us. Because the MYC board is striving to comply with the recommendations of Public Health Madison Dane County (MDC), we have divided the summer into a "Shorthanded" series and a "Fully-crewed" series for E-Scows and Keelboats.
For the "Shorthanded" series, the MYC Board has made modifications to the Racing Rules (e.g. E-Scows and Keelboats that elect to sail the MYC race course with more than two (2) individuals on board shall not be scored for the "Shorthanded Series"). For questions regarding how these modified rules apply to your fleet, get in touch with your fleet captain for further instructions.
The "Shorthanded" series shall remain in effect for the duration of Forward Dane Phase 2 and until further notice from the MYC Board. MYC plans to modify these rules to allow for fully-crewed boats as soon as Public Health MDC orders allow for sporting activities without strict social distancing requirements (hopefully Phase 3). MYC shall designate Sunday and Wednesday races conducted under this rule as a separate, "Shorthanded Series" and such races shall not count towards the regular Summer Sunday or Wednesday Series for E-Scows and Keelboats.
This modification also includes protocols for all MYC sailors and boats. For the full text of this modification, please click the Racing Rules Modifications link in the above header.

Stay safe,
Commodore Pete
2020 Payton Regatta is Postponed
MYC Vice Commodore and Race Committee Chair Charlie Goehring has announced that the upcoming Payton Regatta Mallory Cup (PMC) has been cancelled for the week-end of June 20 and 21, 2020, and will be rescheduled for a later date. This decision has been made in full consultation with Cruiser Fleet Captain Grant Frautschi and Commodore Pete Mooney.
This was a difficult decision and was influenced by Saturday's weather forecast and an anticipated low Cruiser Fleet turnout complicated by the closed Hoofer mooring field and COVID Phase II crew staffing requirements. MYC is concerned that should heavy weather befall the Cruiser Fleet (the fleet vying for the PMC), that safe boat handling might become an issue.
Next week, Charlie will convene a virtual meeting of the MYC Race Committee to establish a new date for the regatta that will also include a social event.
There will be regular club racing on Sunday, June 21.
A Word from the MYC Board Secretary
Dear MYC Members,
The Board met virtually yesterday (June 2) to discuss the racing calendar and how to begin racing at the earliest possible date while complying with City of Madison and Dane County guidelines, laws, and regulations related to the COVID-19 pandemic. As you know, Dane County is currently in Phase 1 of the Forward Dane Reopening Plan. During Phase 1, hosting of sporting competitions generally, and team sport activities specifically (except with household members) are not allowed as they do not allow for proper social distancing. As such, the Board determined that we will need to postpone any official MYC races until the next Phase, which will allow us to operate races in some capacity.
The earliest Phase 2 can begin is Tuesday June 9th. To date, Public Health Madison and Dane County has not released guidance for team sport activities or sporting competitions during Phase 2, but the organization is considering input from the community. The MYC Board will be developing guidelines in consultation with Public Health officials in order to allow us to operate races at the earliest available time. We are hopeful that this will be by Wednesday of next week, June 10th, provided that the county does not delay its planned implementation of Phase 2.
Stay tuned for more updates and additional guidance over the next week. Please note that City and County laws and regulations and MYC guidelines may require some limitations on number of crew, number of households per boat, social distancing and additional rules to help stop the spread of the virus and help us operate safely. Thank you for your patience. We look forward to seeing you on the water as soon as possible.
Best regards,
Matthew M. Barron
Secretary of the Board, MYC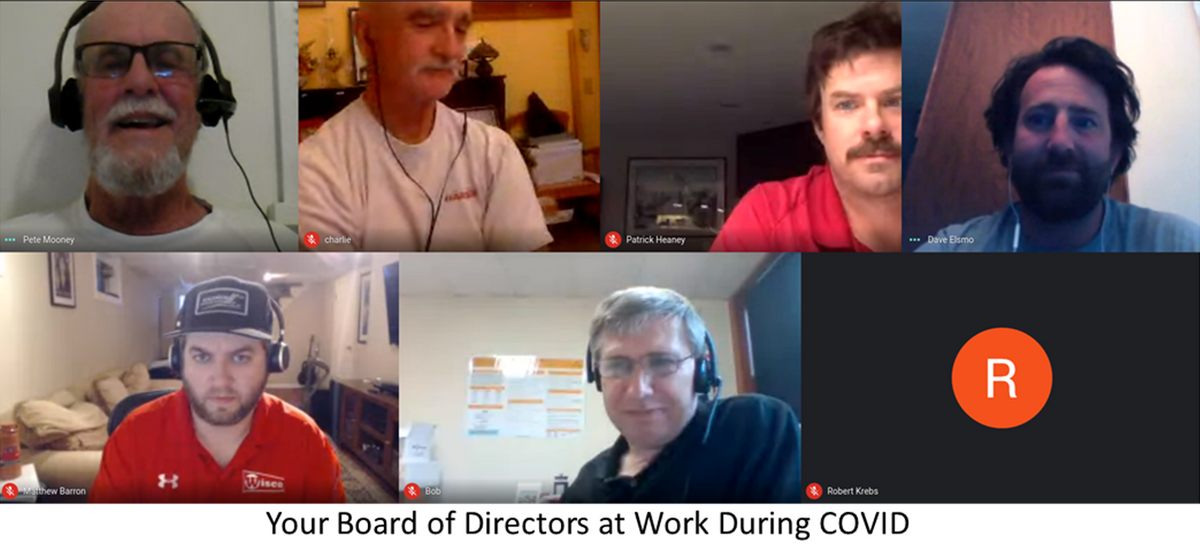 Meet Commodore Pete
Born and raised right here in Madison, Commodore Pete Mooney grew up remembering his dad as always singing. No matter where they were or what they were doing, there was a tune coming out of his father. Oddly, Pete's family wasn't particularly musical. He remembers a piano in his childhood home, but he can't recall anyone ever playing it. There were also piano legs supporting a large table in the basement laundry room. "At some point in my family's history, there must have been a musician," he muses, "but I have no knowledge of who that might have been."
If music was an elusive part of Pete's childhood, water was not. His dad loved to swim in Madison's lakes and he frequently took the kids with him. Pete remembers learning to swim at Tenney Park at a very young age. He was also a scout, joining in 1957 and remaining active throughout his early adulthood. He was an Explorer Scout Adviser for much of that time.
Pete's other interest as a young boy was in mechanics and electronics. He would take apart anything he could get his hands on—clocks, bicycles—to study how they worked. It's this interest that led him to enroll in the Computer and Electrical Engineering department at the University of Wisconsin Madison—something he knew he wanted to do even when he was in grade school.
Once at UW, Pete laughs that he didn't take his first year seriously. At the end of the less-than-stellar year, he was drafted. To pre-empt the draft, he enlisted for three years and served in Alaska working with Ground Surveillance Radar. He also served in South Carolina, Alabama, Georgia, and Washington State.
When he was released from the Army, he returned to UW and became a serious student. He also became an active tech dinghy sailor at the Hoofer Sailing Club. When he wasn't in class, doing homework, or sailing, he had a part-time job with Wisconsin Public Radio fixing their electronics and running their main control operations. He graduated from the university in 1978 with a BS in Electrical and Computer Engineering.
His first job after graduation was in Boston for a company called PR1ME Computer where he designed and tested controller boards for computer peripherals. PR1ME's clients were mainly universities and hospitals. After three years, he had an opportunity to move back to Madison, where he worked for Amtelco building a small computer that was used by telephone answering services. He also developed peripherals and worked in quality assurance. Five years later, he moved to a company called Astronautics Corporation of America, where he did mostly quality assurance. He was there for four years. His final job before retirement was with PIC Wisconsin, a medical liability insurance company, where he worked in sales and marketing. Pete currently volunteers at the VA Hospital and at the Hoofer Sailing Club.
Regardless of where he lived and worked, the water was his second home. While working in Boston, he crewed on keelboats in Long Island Sound. Upon returning to Madison, he re-joined Hoofers where he crewed on the keelboat Maria, raced 470s, skippered E-Scows, crewed on M-20s, windsurfed, and was both skipper and crew on Soma. He also became a Hoofer instructor and taught people to sail on the Tartan-10, New York 36, Mull 33, Santa Cruz 33, E-scow, C-scow, M-20, 470, Tech Dinghy, and Windsurfer. He was particularly proud of his work teaching deaf students how to sail. Over the past 30 years, he has been a well-known personality at Hoofers.
Pete has also skippered and crewed on many charter boats that have cruised lakes and oceans around the world. It was bare-boat sailing where Pete and his fellow sailors did all the work including their own cooking, cleaning, navigating, skippering, and maintenance. The boats have ranged from 33 to 44 feet. He has sailed in the Apostle Islands, British Columbia, down the east coast, in the Caribbean, and across the Atlantic from South Carolina to the Azores Islands. He has also raced on Lake Michigan many times including a couple of races from Chicago to Mackinaw Island.
When he sailed the 3,000-mile Atlantic crossing, it was just Pete and two other sailors on a 35-foot boat. They sailed through four days of storms where the waves were as tall as the mast. They made the crossing, landing in the Azores, and after a brief stay, Pete took non-sailing transportation back to the United States. When asked if he ever encountered pirates on any of these cruises, he says that they did not, but on their Caribbean cruise, the boat was robbed while they were on shore. Oddly, only the film and camera were taken. All of the valuables were left on the boat. (Pete's crew had possibly photographed some drug runner boats.)
Pete raced in MYC as a Hoofer crew on S/V Maria in the '80s. Pete's more serious association with Mendota Yacht Club began when he joined around 2010. At that time, he was campaigning the Hoofer boat Soma and then later the S/V Decoy. He currently races the Hoofer boat Siege, where his crew is often composed of students who are taking a sailing lesson. He joined the MYC Board of Directors about six years ago when he was nominated for a position and accepted it in what he calls a weaker moment. He says it has been a lot of fun for him and he's happy to give back to the club that has given him so much enjoyment and comradery. He believes MYC has great people and he is glad to meet them through his Board position.
As Commodore, he hopes to accomplish four key goals:
Create more cohesiveness between the keelboat and scow classes during social events. To this end, the club is having Fleet Meet-Ups one Wednesday night each month this summer. In June, July, and August, one fleet captain will choose a venue where sailors from all fleets can meet and socialize after the race.
Coordinate and promote youth sailing. This summer MYC will participate with the youth sailing club in their awards banquet. We will also encourage members to donate to the youth sailing club.
Get a smooth website up and running. You are reading this article on the new website, and we hope to have many updates and improvements throughout the year.
Research the possibility for having a meeting space where club members can congregate, and the youth in our club can come and learn to sail. The board is exploring options.
As if these goals weren't challenging enough, Pete now has the dubious responsibility of navigating our club through a year when the coronavirus has changed the way we live and the way we congregate. There is no question that he is up to this challenge.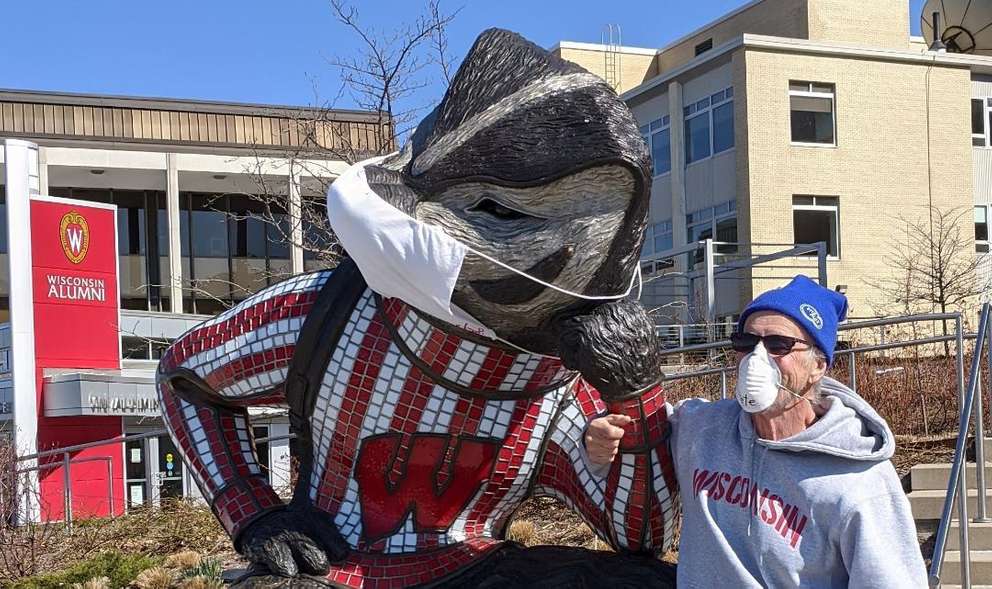 An Update from Your Commodore
Greetings Mendota Yacht Club Members,
The MYC board met online on April 21, 2020 with only one member absent. We are hoping that the pandemic will be easing and that we can at last go safely sailing. With Governor Evers' Safer at Home policy being enforced through the end of May, we have made the following changes to the 2020 calendar:
The following events are CANCELLED
Spring racing series
E Spring Regatta
Memorial Day race
Bloody Mary party
The following events are RESCHEDULED
Burrows Park Pier-In—May 30 (unless the Scow Fleets contract with a third party to install earlier)
Keelboat Crane-In—May 30 (please coordinate with your fleet captain)
RC1 Clean-Up work party—May 31
Beginning of Summer Racing Series—June 7
The following events are still ON THE SCHEDULE, but we are keeping a close watch on the COVID situation and will make adjustments if necessary.
After-Race party at Shorewood Boathouse—June 7
Fleet Meet-Up at Bear and Bottle—June 10 (this is an all-fleet after-race party with the venue chosen by the MC fleet captain)
2020 Payton Regatta—June 20-21
Payton Potluck at Maple Beach Boathouse—June 20 (this party will be changed from a potluck to a catered event for food safety reasons)
Payton Awards party at Burrows Park—June 21
The MYC Directories will be available for pick-up at the June 20 Payton dinner at the Maple Bluff Beach House. Any remaining MYC Directories will be mailed after the June 20 party.
The MYC board will remain flexible and we'll make calendar adjustments if needed. You can view the full calendar at www.mendotayc.org.
Stay safe,
Pete Mooney
MYC Commodore

Coronavirus Infects Spring Sailing Season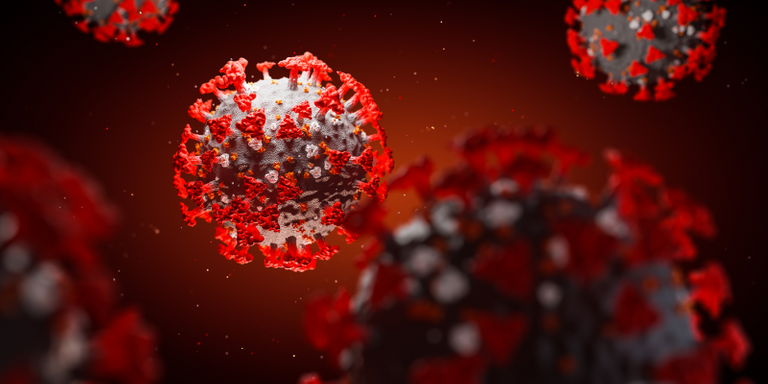 The MYC spring social calendar was shaping up to be a fun and exciting beginning to the 2020 sailing season. The social committees of four boating clubs (MYC, Four Lakes Yacht Club, Four Lakes Ice Yacht Club, and Lake Monona Sailing Club) had plans to convene the clubs on March 21 for a March Madness party. And things were looking promising for our Wisconsin Badgers as they were the #1 seed in the Big 10 Tournament. Additionally, Dave and Lori Gorwitz had agreed to host the Spring Banquet in their home once again.
As the social committee finalized the schedule and submitted it to the Board of Directors for approval, news started appearing about a disease outbreak in Wuhan, China. Then it was in Italy and Iran and South Korea. It was only a matter of time before the coronavirus hit our shores in Washington State. As the virus moved throughout the United States, large gatherings started limiting or prohibiting spectators. The Big 10 started its tournament as normal on March 11, but then announced it would hold the rest of the tournament without spectators. The next day, on March 12, before any further games could be played, the entire tournament was cancelled.
In the meantime, the social committee of the Four Lakes Yacht Club weighed the situation and determined it was too risky to hold a large gathering (last year's Tropical Party had 90 attendees), and cancelled the March Madness party.
The MYC Board and Social Committee remained hopeful that the Spring Banquet could still take place on May 9. But as the virus spread and governors and mayors began announcing shutdowns and limits on the size of events, the Board decided it was time to cancel the banquet. We are hopeful that, as the virus runs its course, we can reschedule a fun event later in the season.
However, the remaining social schedule remains in limbo as there is no clear idea how long the virus and its accompanying restrictions will last. The social schedule is posted on this website as originally planned, and we will keep you informed of the status of each event as the date for it nears.
In the meantime, stay safe and wash your hands!
MYC 2021 COVID Response Plan
Mendota Yacht Club is happy to report that as of June 2, Public Health Dane County and Madison has lifted all Dane County emergency orders. There are no restrictions in Dane County related to COVID 19. However, because we want the sailors in MYC to be safe, we encourage you to stay informed regarding CDC guidelines and to employ safe practices regarding your own situation.
Public Health will Lift all Dane County Orders June 2

Introducing Crew Finder
Are you a skipper looking for crew? Crew looking for a skipper. Try this skipper/crew finder: