Come sail with us!
Founded in 1903, the Mendota Yacht Club is the oldest sailing club on Lake Mendota and Dane County. Our mission is to encourage the sport of sailing among young and old.

Commodore's Banquet
Don't miss this celebration of the end of the 2023 sailing season to be held in the historic Wisconsin Union. We have a wonderful global buffet planned. Dinner will be followed by the trophy presentation.
You can register for this event at https://my.mendotayc.org/event/237. See you there!
When: Thursday, November 9, 2023
Cocktail hour opens at 5 p.m.
Dinner buffet opens at 6 p.m.
Trophy presentation to follow
Where: Memorial Union—Great Hall (fourth floor)
800 Langdon Street
Madison, Wisconsin 53715
Cost: $35 per person
'Global' Buffet Menu
Vegetables, dips, spreads, pita chips
Sesame, strawberry spinach salad
Sake salmon
Chicken tikka masala
Jerk fried tofu, chimichurri
Basmati rice
Naan bread
Cash Only Bar
This event will have a cash only bar, so if you would like beer, wine, or cocktails be sure to bring cash!
Special Dietary Requests
Vegan options available. Gluten free available upon request in pre-event questionnaire, or contact Zach Childs at (562) 394-7406.
Additional
Interested in sponorship this year's event? Opportunities are available starting at $100. Please email info@mendotayc.org.
Be a Part of E-Scow History
With less than two weeks until the big 100-year E-Scow Regatta, there is still a chance for you to volunteer. Don't be left out of this once-in-a-hundred-year celebration! Click the link below and sign up for the opportunity that suits you.
2023 E Scow 100-Year Anniversary Championship
The Mendota Yacht Club is hosting the E-Scow Nationals on Lake Mendota, celebrating the 100th anniversary of E-Scow racing, September 6-10, 2023. We've set up an event website as a resource to ensure you have everything ou need to know. Be part of history by joining the fun and volunteering to help the E-Scows kick off the next 100 of sailing with us.
100-Year Regatta Social Events and Lunches
Besides having exciting racing for five days, the 100-year regatta will also have some pretty awesome social events. Join the parties at the beautiful Edgewater Hotel both Friday and Saturday night. You can purchase the Regatta Social Package, which includes both nights. Enjoy elegant hors d'oeuvres, great speakers, and a live band with dancing each night. Want to guarantee a great seat for yourself and others during these parties? Purchase a VIP table for 10 and you can have the best seats in the house.

On Thursday evening, come to the annual membership meeting at Marshall Park. Besides the meeting, there will be Madison's favorite BBQ from Smoky Jon's, local wine tasting, a steel drum band, and lawn games. There is no cost to regatta attendees for this event.
Finally, don't forget that you and your crew need nourishment on the water between races. Order your to-go lunches to be picked up at Marshall Park before you go out on the water.
Click HERE to purchase your space at the parties and/or to order to-go lunches for on-the-water.
Join the Biggest Birthday Party in E-Scow History!
You are invited to join the E-Scow Fleet in celebrating its 100th birthday! Volunteer to help MYC pull off this 100-year, 100+ boat regatta to be held on Lake Mendota from September 6-10, 2023. There are many ways for you to get involved. Be a part of MYC history and sign up to volunteer today!
Friends of Bill Mattison Update
Thanks to everyone who signed on to be a Friend of Bill Mattison. Bill's family will be moved by the number of people and organizations who loved and respected him. The final Friends list will be published in the E-Scow 100-year regatta souvenir booklet to be distributed at the regatta in September. All Friends will get a copy.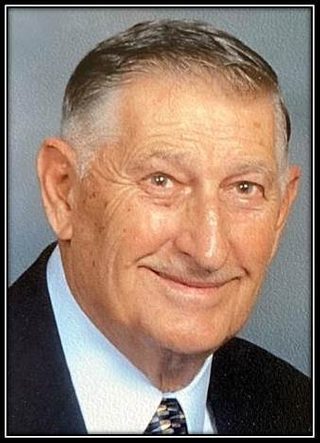 MYC'ers Dawn Mills and Jithanie Gunasena Take First in Queen's Cup Cruising Division
On June 24, Dawn Mills and Jithanie Gunasena, along with Tom Mills, Emily Joachim, and Dillon McCannon, finished first in the cruising division of the Queen's Cup, crushing the second place boat by 1 hour and 15 minutes. All five are also members of the Hoofer Sailing Club. Queen's Cup competitors cross Lake Michigan, starting in Milwaukee and finishing in Grand Haven.
Here is Dawn's exciting first-person account of the race:
For the Queens cup, our start time was 2:30 pm June 24th. We were in the cruising division; no spinnaker. The wind was south in the teens and as we were headed east, there was a dead patch of wind expected about midnight creeping in and settling at our destination. Weather was fair but a bit chilly.
This was our first time across the big lake, in a large race and overnight. We were a bit nervous, but we were well prepared with anti-nausea medicine, crew-overboard gear, practiced crew overboard recovery drills, required tethers, foul weather gear, inflatable life jackets, single handed release knives and a special tracker! If we were going to cross a large body of water for the first time, there would be other boats around in case we ran into trouble.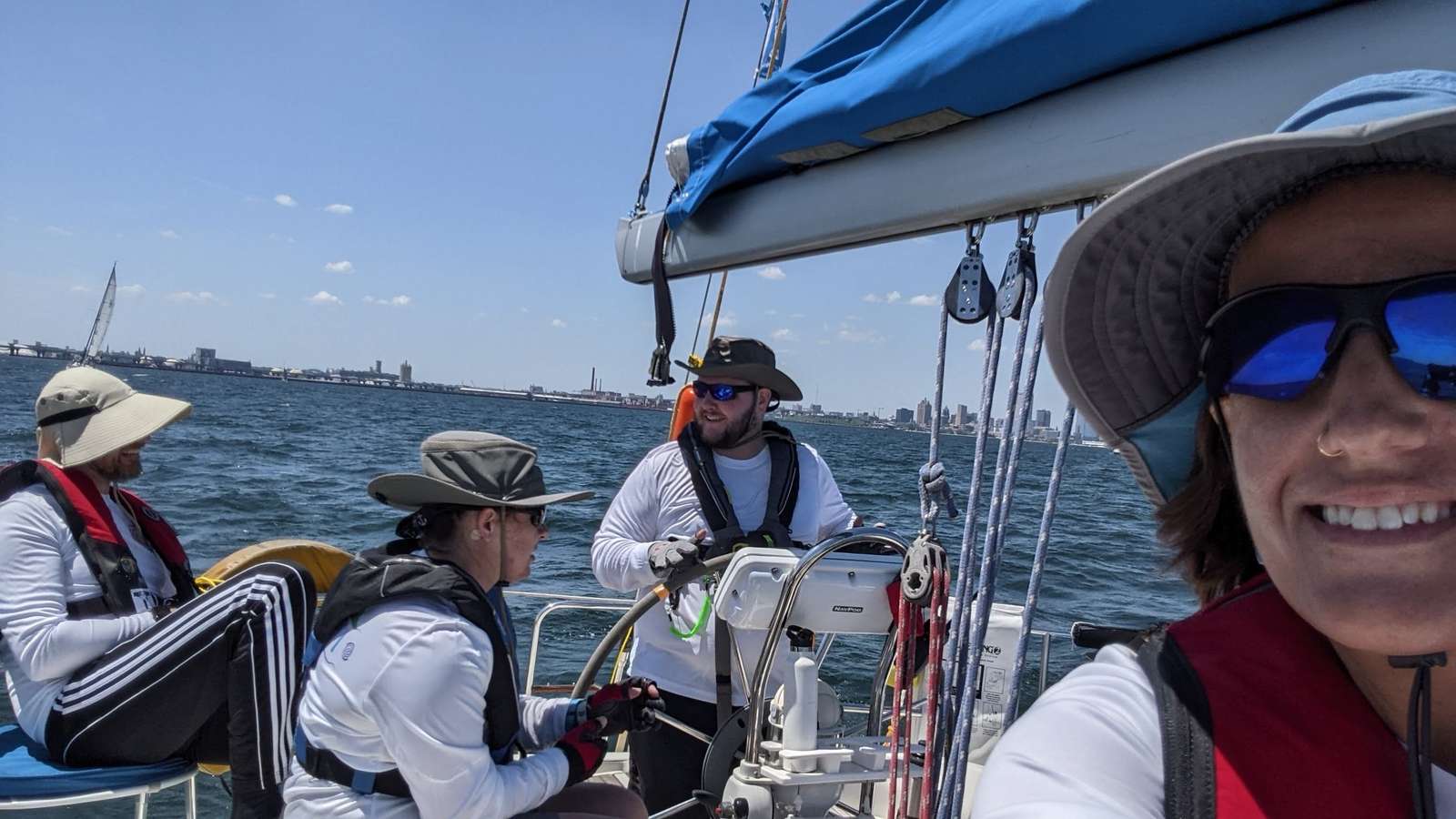 We chose to stick to the rhumb line as long as we could and be on a beam reach most of the way. We quickly assessed the sail plan and kept tweaking it throughout the night to get the most speed. The stars were amazingly breathtaking as was the quiet of nothing but us, the boat sky and water. No land in any direction.
We all took 1 hour turns at the helm with always rotating 2 people above deck until dark, then 3 people above deck. In comparison to my usual racing, the start was less exciting than at night when I could no longer see the wind vane at the mast head, sails or water. I couldn't see my sail trim or wind direction. I/we had to go by boat feel of proper heel and check with the digital anonometer, wind on our face, lit compass, and GPS to the waypoint. We were able to stay 6-8 knots most of the way. When the wind started going down, we headed north awhile and then back south again. The last few hours before we crossed the finish was exciting as all the red and green lights of other boats suddenly became visible in the thick darkness. We had to decide how big the boats were and who had right of way, keep our speed up and plan our tacks well. As we came closer and called our sail numbers into the race committee, the other boats in our division had not called theirs in yet. We thought we may have won.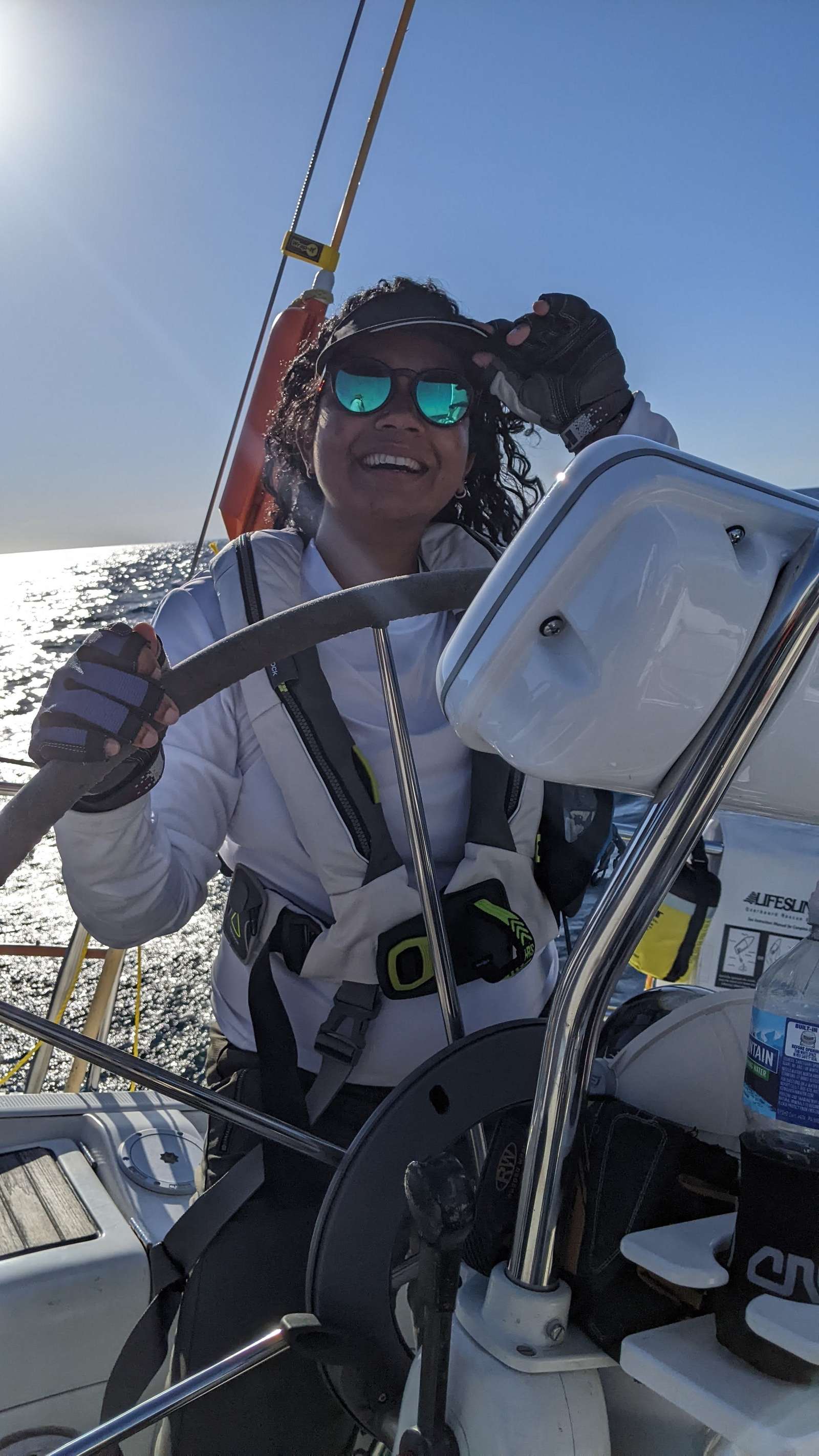 We were exhausted and crossed the finish at 4:30 Eastern time. We came into our slip just as the sun was coming up. It was an amazing time and I'm so thankful I was a part of it!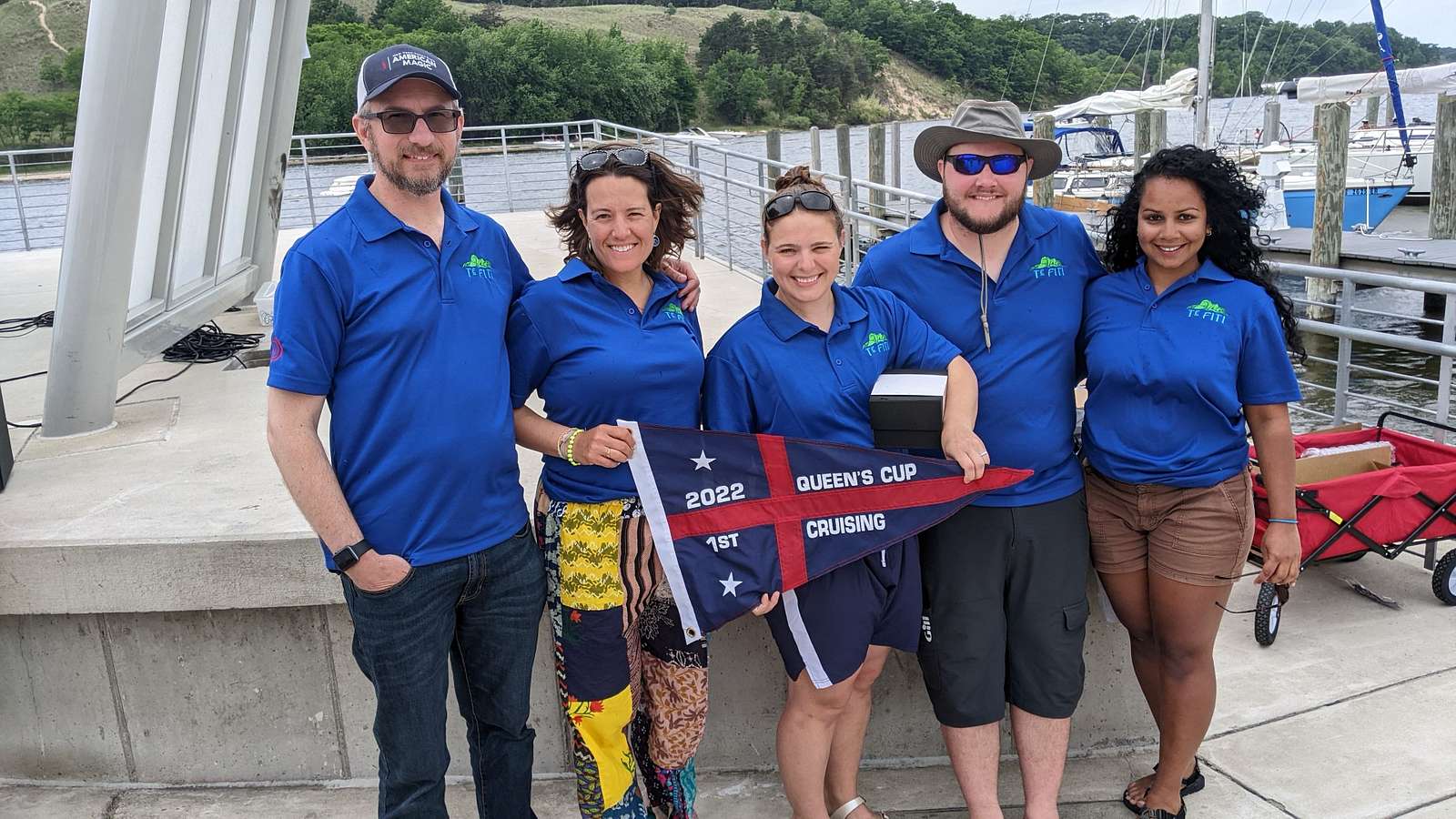 J24 District 15 Championship Regatta a Huge Success!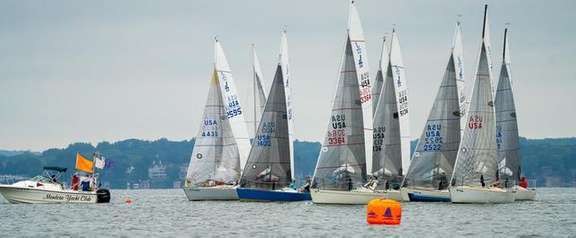 Together the Mendota Yacht Club and the Hoofers Sailing Club hosted a fantastic two day regatta with competitors coming from around the Midwest. A big shout-out to Dave Elsmo and the crew of Alibi for being the top finishing Madison and MYC boat with a 4th place overall.

None of it could happen without an amazing amount of work, and we all need to acknowledge the club members who put hours of effort into making a successful regatta.
Grant Frautschi was able to put together an amazing volunteer team to host this event and it took all of them to get the job done.
Shoreside logistics: Dave Elsmo, Mills Botham, and Hoofer Sailing Club
Co-Chair, Sailing Instructions, and Legal Documents: Matt Barron
Hoofer Friday Social: Colleen Hickman
Registration: Don & Barb Sanford
Online Media: Deb Whitehorse
On-the-Water Photo Boat: Jeff Russell, Rhonda Arries and Keto
RC1 Prep Work and Cleaning: Grant Frautschi, Anma Ingeana, and Brian Anderson
Protest Committee: Dave Gorwitz
RC 1 Signal Boat: Anma Ingeana, Paige Fitton, Mitch Fitton
RC 2 Mark Set: Grant Frautschi, Dane Vermillion, Bob McClaren
RC 3 Finish Boat: Jim Fitton, Billy Fitton, Brian Anderson, Afan Ottenheimer, Paul McMillian
Social Crew: Sarah Frautschi, Becky Vermillion, Terri Sundquist, Mary Hastings
Delivery Driver: Scotty Louther
Raffle Donors: Grant Frautschi and Don Sanford
Thank you all for your time, effort, and equipment that made this regatta the best one that many competitors said they have ever been to! With top notch racing and a party back-drop like below how would anyone not come back and bring their friends to race? 24 boats in '24?
Boat for Sale
MYC member Alan Carlson has a boat for sale.

Details:
2001 Precision 23
In a slip on Lake Mendota, Madison, Wisconsin
Very good condition
Comes with trailer and many extras
$19,500
More Information:
www.cathyalan.com/boat
608-215-2379, 608-516-8544
cathyalan@cathyalan.com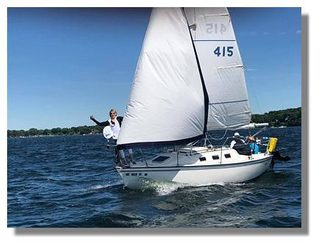 Step Up and Be Helpful
The 2022 sailing season kicked off Wednesday on a gorgeous night with light and fluky winds. PRO Emeritus Anma Ingeana took the MYC Race Officer training program on the water to manage the race. Four people joined Anma on the boat: Brett Hulsey (Principal Race Officer - PRO), Mike Crane (Race Officer Assistant - ROA), Paul McMillan (ROA), and first timer Andy Lager (ROA). After Wednesday night's race, PRO Brett Hulsey reports that he is ready to take RC1 and crew out solo. All the Race Officer Assistants did great jobs and show they have talent for on-the-fly problem solving. All three of them will be great additions to the race committee.
"It's going well," says Anma. "We have had several ground schools for introduction to equipment, officiating mechanics and computer programs. Everyone is catching on fast to what needs to be done. And boy there is a lot that needs to be done. People believe being on the race committee is a simple task—go out, set a course, and keep track of the boats as they finish. But there is a lot to be done." She proceeds to tick off all the things that go into successful race management. Being on race committee and being on a racing boat are very similar. Practice makes perfect the more time and thought you put into it, the better you get. "Mendota Yacht Club has many excellent sailors and deserves excellent race committee so that all sailors can learn and improve their skills." We continue to need both PROs and ROAs.
There are off-the-water operations such as boat and equipment procurement and maintenance. On-the-water, the race committee assesses the wind speed and direction, sets the course and places the buoys, prepares the flags, prepares the white board so racers know what the course is and the order in which the fleets race, checks in the boats at the start line, conducts the race countdown, and oversees the race. Then there are all the post-race duties including finishing races, posting scores to the WEB, picking up marks, getting the boat to shore, securing it, and putting equipment and supplies away. When racers are at the bars celebrating their wins or lamenting their mistakes, the race committee is hard at work tucking the boat away and getting it ready for the next race.
There are also four computer programs needed to manage the race. The PRO needs to know all of these programs. Race Officer Assistants need to know one of the programs, but it is helpful if they know more.
Anma gives credit to lots of people for making this program work. Tim Stanton needs to be recognized for his previous steady work as PRO and for putting together his Sail Putz program. Anma refers to this program as "Tim Stanton's Excellent, Excellent program." Grant Frautschi has worked tirelessly on boat maintenance and equipment improvement. He has been instrumental in obtaining the new lift that works well for every race officer.
Afan Ottenheimer (PRO) has gone out on the boat twice for training and has an official seal of approval for running races independently. Afan has also been helpful in modifying the MYC website program to be more useful in scheduling race officers. It's still a work in progress but it is improving
Charlie Goehring has been at both ground schools and on-the-water training and is interested in being PRO. Jennifer Geils has demonstrated the right stuff for being a Race Officer Assistant. She is calm and competent and always picking up new ROA skills.
"We are well on the way to having an excellent Race Officer Program, but to be honest, we need everyone in the club to be involved," says Anma. "In other yacht clubs, EVERY member plays a role in helping the racing program. We need more of our members to step up and take part. Without race officers, there can be no racing. Race committee work helps you understand the mechanics of racing, makes you more observant of the wind, and makes you a better racer. It's good for you and it's good for the club please be part of it."
Indeed, MYC has been spoiled in the past. We have had PROs who were dedicated and gave their heart and souls to the program. From Ernie and Roselle Henkel all the way through Jim Payton, Bill Ward, Carl Fritzner, Dave Gorwitz, Bill Hansen, Anma, Tim Stanton, Grant Frautschi, and Dane Vermillion, we've had race officers who worked tirelessly to maintain an excellent program. Now it's time for all MYC'ers to STEP UP AND BE HELPFUL. Please feel free to contact Anma via phone or e-mail for information about signing up for race committee. Both Grant Frautschi and Anma can meet with people on ground to introduce them to useful apps and take people out to get training on the water for race committee.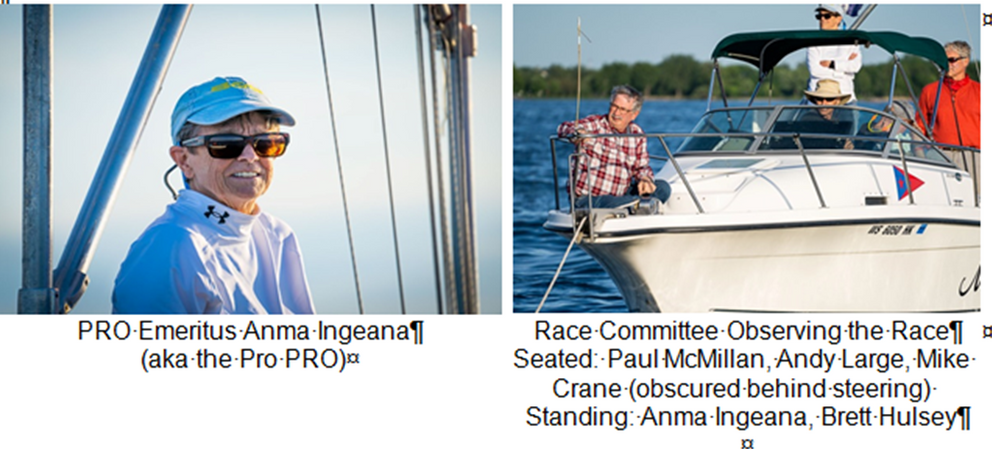 And We're Off!!
On Wednesday, June 1, MYC kicked off the 2022 sailing season on a warm night with moderate and fluky winds. PRO Emeritus Anma Ingeana and her Race Officer Training students ran a fine race. Congratulations to winners Hugh and Tim Sugar (E-Scow), Dave Elsmo (Cruiser II), and Dave Sebald (MC). Photo is courtesy of Jeff Russell. You can see more of Jeff's photos from Wednesday's race here.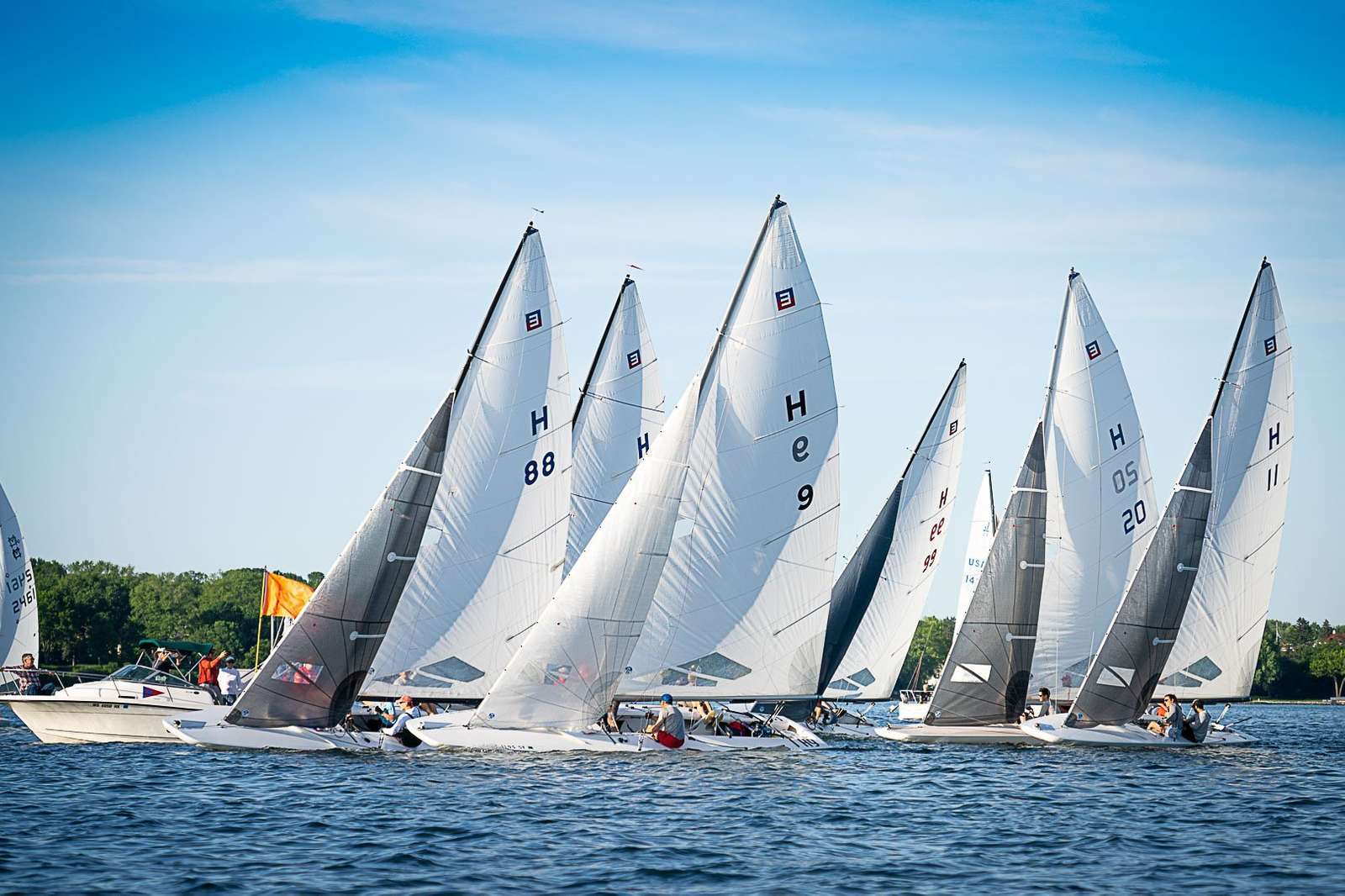 The Payton Regatta is Coming Up!
The Payton Regatta and the Payton party are coming up soon. Don't miss this fun annual regatta. The E-Scows will be sailing for the Mallory Cup.
The Dates
Saturday, June 18 and Sunday, June 19, 2022
The Racing

June 19 starting at 10 a.m.--Two races back-to-back
June 20 starting at 10 a.m.--Two races back-to-back. The first of these two races is also a regular Sunday club race.

The Party
Saturday June 18, 6-8 p.m.

Pascal's Cantina will be catering a taco bar buffet. This event is free to MYC members. However, we do need to give Pasqual's Cantina a head count, so if you plant to attend, please register by June 10 at https://my.mendotayc.org/event.
The Awards Ceremony
Sunday, June 19 at 3 p.m.
Burrows Park in the grassy area by the boats
25 Burrows Road
Beverages and snacks will be provided.
Please show up to observe the racing, to party with your sailing friends at the taco picnic, and to congratulate the winners.
PRO Emeritus Anma Holds Race Committee Training
On Saturday, May 21, Anma Ingeana held a dockside training session for Race Officer Assistants and for potential Principal Race Officers. Three volunteers attended the session. Anma provided training on the operation of the RC1 boat, the new lift, and the MYC race committee system.
Anma will be offering another session Saturday, May 28. This session will include running actual races. The Race Committee will be setting a short course as part of their Race Officer Training. Racers from all fleets are invited to come for one or more practice races and/or starts (total number TBD). Scores will be kept but not made a part of any official race series.
Depending on attendance, fleets may receive their own starts or start together. Information will be provided on the Course Board on RC1. First start is scheduled for 12 noon.

Please refrain from sending questions or communications to the Race Committee over VHF as they will be focusing on volunteer training. The Race Committee may communicate to competitors using VHF channel 78A. Race committee VHF broadcasts concerning its intentions, the course to be sailed, starting times, course changes, OCS hails, etc. are a courtesy only. Competitors may not monitor VHF channel 71 (reserved for Race Committee use).
Event Registration/Sign-Up is not required to attend but is appreciated to help our Race Committee and Volunteers know what to expect. You can sign up on the MYC website at https://my.mendotayc.org/event/149.
NOTE: Even if you haven't attended Anma's training, it's not too late to volunteer to be a Race Officer Assistant. MYC needs a PRO and one or two race assistants for every race. You can volunteer at https://www.mendotayc.org/volu... .

Remember, without a race committee, there can be no races. Do your part to make MYC racing successful.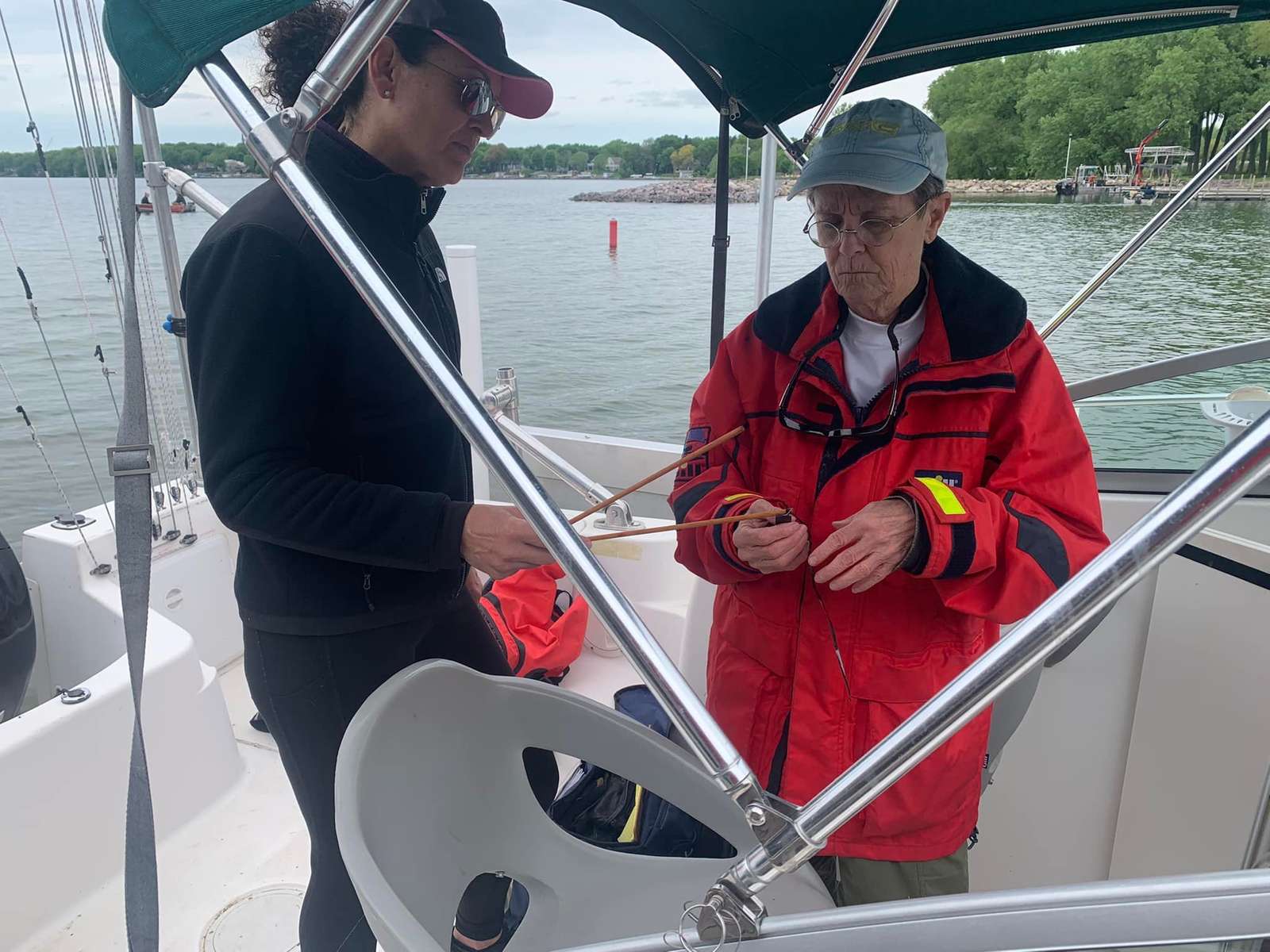 Want to Help MYC?
MYC needs volunteers--lots of them! Some volunteers are leaving their positions. Some positions are empty. Other volunteers are overwhelmed and could use some help. The club can't function without the help of our members. So please considering volunteering some of your time. There are a variety of positions. You could sign up to chair a committee, or you could do a simple one-time task. No task is too small.
So hover over "Volunteer" in the navigation bar above and browse how you can help. Anything you can do to help will be welcome!
MYC Has Lost a Legend
Bill Mattison, an MYC stalwart who meant so much to so many sailors, crossed the bar on Monday April 25, 2022. He was 93 years old and just two days shy of 65 years of marriage with Mauretta.
You can read his obituary here and you can read about his contributions to MYC and the sailing world in the Celestial Sailor section of our website.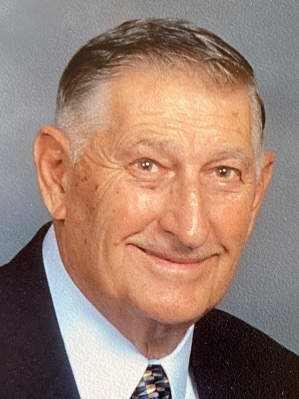 Meet Commodore Patrick
Commodore Patrick Heaney was practically born on a sailboat. While most infants are rocked in their cradles, Patrick was rocked on his parents' cruiser while they sailed in the Chesapeake Bay. One of Patrick's earliest memories is of sailing.
As soon as he could hold a tiller, Patrick was steering his own boat. At age 4, after his parents had moved from Virginia back to their native Neenah, he started racing Optis. And he didn't just race; he also sailed Lasers and Sunfish for fun. When he outgrew the Optis, he started racing X-boats and, at age 13, he began racing M-16s. Patrick's love for E-Scows started in Oshkosh in the late 1980s. He would race his M-16 in the morning, then hang out to see if he could score a spot as a 4th in the afternoon E-Scow race.
With so much youthful sailing experience, he was a natural to become a sailing instructor. At age 12 he joined the Fox Valley Sailing School where he taught and then eventually ran the program until he was 19. During high school, he started a sailing team that competed regionally and nationally. He campaigned an A-Scow and won a few ILYA races.
He continued his sailing when he went to Colgate University from 1996-2000, studying physics and mathematics. He qualified for Nationals several times, sailing on the boats provided by the host schools (usually Flying Juniors and 420s). After he graduated from Colgate in 2000, he stopped sailing for a few years to work as a professional skydiver. Although he was based out of New York City, he traveled all over the world to host skydiving events and to coach students. He stopped jumping, but not before he completed over 8,000 skydives. Some of his most memorable skydives were night jumps in the complete darkness. He compares this to sailing at night.
In 2005, Patrick came to the University of Wisconsin to pursue a PhD in materials science. He achieved his doctorate in four years, graduating in 2009. His thesis was on diamond coating, a topic he used to secure Small Business Innovation Research (SBIR) funding from the National Science Foundation. With this funding, he then started NCD technologies and has been at the helm of his company ever since.
Patrick joined Mendota Yacht Club in 2005 at the same time he started graduate school. He started by crewing for Justin Segersten on an E-Scow. A year later he decided to dust off his old E-Scow (still waiting for him in Oshkosh) and bring it to Madison. He reluctantly changed his sail number from J-13 to H-13 and thus became a bona fide Mendota Yacht Club E-Scow sailor. As a new MYC skipper, he bounced around with various crew for a few years, but he eventually convinced Justin to crew with him.
With all the different boats Patrick has sailed, he has a particular love for the E-Scow. He keenly appreciates the E-Scow's response to physical input saying, "The harder you work, the faster you go." He loves speed, so a planing boat with an asymmetrical sail seems like the only option for him. He is also amazed at how competitive the fleet is (both in Madison and elsewhere), making racing and regattas challenging and fun.
Patrick joined the MYC board in 2019 because he feels there is a need for members to step up and to help the club develop and grow. Although he was extremely busy running his own business, raising three kids, and serving on two boards (both MYC and the Madison Youth Sailing Foundation), he agreed to take the Commodore position to help steer the club into the future.
Patrick hopes to accomplish two goals as Commodore. The first is to make racing at MYC better. He believes everyone wants this. The second is to create some sustainable goals that will ensure quality racing and a quality club for years to come. This means getting more member involvement with race management, club management, and social activities. It means setting up sustainable systems that can be managed by current and future volunteers. It means making volunteering fun and rewarding so that everyone will want to be an active part of the club's racing and social activities.
To accomplish these goals, Patrick believes that volunteer positions need to be divided into more "bite-sized" chunks so that volunteering is more manageable and easier to say "yes" to. He hopes that using a variety of input for MYC's social events will get more attendance, especially cross-fleet attendance, to build back the MYC community. Patrick understands that the past two years of Covid has been hard on MYC. His goal is to have 2022 be the year when the club comes back strong, and when both the racing and social events are dynamic and fun.
Stay tuned. He will soon be inviting you to help your club out by volunteering!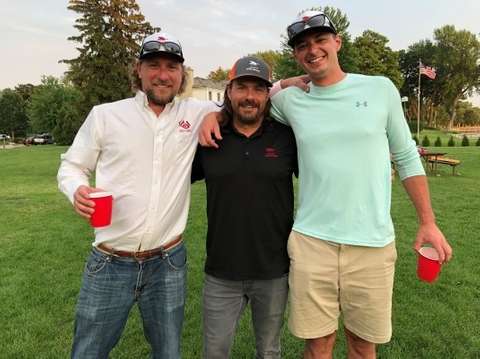 Upcoming Events
Sat 15 Jun
  Payton Regatta. Open to any sailor in the Cat Scow, or Keelboat classes   Please only sign up if you are not already signed up for the regular summer series.